Merbau Properties
---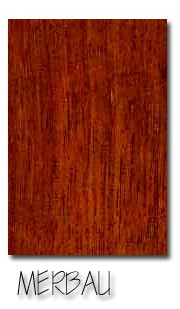 BOTANICAL NAME
- Intsia spp., Caesalpiniaceae family
- Intsia bijuga
- Intsia palembanica
LOCAL NAMES
Marbau, merbau, merbo, taritih (Java); marbon, merbau asam, merbau darat, merbau pantai (Sumatra); alai, anglai, ipil, jumelai, maharau, merbau (Borneo); Bayam, gefi, ipi, ipil, langgiri, ogifi (Celebes); aisele, dowora, falai, ipi, ipil, kayu besi (Moluccas); Doma, fimpi, ipi, ipir (East Nusa Tenggara); bau, kayu besi, pas, sekka (Papua).

OTHER COMMON NAMES
Go-nuoc (Viet Nam); Ipil, Ipil laut (Pl); Kwila (Papua New Guine); Lumpho, Lumpaw, Maka-mong(Thailand); Moluccan iron-wood (United Kingdom); Mirabow (United Kingdom, USA); Inzia (ltalia); Moluks ijzerhou (NI); Merbau (France, Germany, Italia, NI, Spain, Sweden).
GEOGRAPHICAL DISTRIBUTION
All over Sumatra, Borneo and Celebes, West Java, Central Java, Moluccas, East Nusa Tenggara, Papua(Irian Jaya).
HABITUS
The tree stands 40 m tall, the clear bole is 4 to 30 m long, and the diameter is 100 cm. The buttress root is 4 m tall and 4 m width. The outside bark color is gray, gray to brown, light brown or light red. I. bijuga has shallow grooves bark. I. palambanica hasn't grove bark. The bark some peeled and some has a lot of peeled. The bark is tights and has black or dark red resin.
GENERAL CHARACTERISTICS
COLOUR
The heartwood is brown-gray, brown-yellow, brown-red or black. The sapwood is light yellow. The sapwood has 5 - 7,5 cm tights. The sapwood can be differed from heartwood.
TEXTURE
The wood texture is evenly coarse.
GRAIN
The grain is straight or occasionally slightly interlocked.
TOUCH
The wood surface is smooth.
GLOSS
The wood surface is glossy.
STRUCTURE
VESSELS
The vessels is spread, solitary and in grouped of 2 to 3 in radial direction, rarely clustered, The diameter is 150-200 m, the frequency is 1 to 2 per mm2.
PARENCHYMA
The apotracheal parenchyma has the shape of complete borders to the vessels.
RAYS
The rays are uniseriate and multiseriate, 50 to 125 m wide, 300 to 400 m high, and have frequency of 4 to 6 per mm.
FIBRES
The fibre length is 1181 m with a diameter of 21.6 m.
PHYSICAL PROPERTIES
Specific gravity
0.84 (0.63 - 1.04) g/cm3
Strength class
II
Shrinkage
Shrinkage to oven-dry condition of I. bijuga is 3.3% (Radial) and 4.1% (Tangential).
Shrinkage to air-dry condition of I. palembanica is 0.6% (Radial) and 0.7% (Tangential).
Fibre Saturation Point
24 %
MECHANICAL PROPERTIES
Bending strength
115 mPa
16679 psi
Modulus of elasticity
15440 mPa
2239 1000psi
Crushing strength
74 mPa
10733 psi
JANKA Hardness
8.56 kN
1925 lbs force
note: at 12% moisture content
CHEMICAL PROPERTIES (I. bijuga)
Content
Cellulose 46.9%
Lignin 22.6%
Pentosan 17.1%
Ash 0.9%
Silica 0.2%
Solubility
Alcohol-benzene 5.6%
Cold water 11.3%
Hot water 8.2%
1% NaOH 2.9%

DURABILITY AND TREATABILITY
Durability
Fungi - Class 1 - 2 - Very Durable to Durable
Dry Wood Borers - Heartwood durable
Termites - Class D - Durable (see "Bangkirai and Merbau Termite Resistance")

Treatability
Merbau wood is difficult to treat.
DRYING
Merbau wood can be dried satisfactorily without incurring significant defect.
AIR SEASONING
Seasoning of 2.5 cm thick I. palembanica boards up to air-dry condition and humidity 15% takes 82 days respectively.
KILN DRYING
Recommended drying temperature and relative humidity are 43-71C and 83-38%.
WORKING PROPERTIES
Sawing/Machining; Sawing is difficult as wood clogs saw teeth and dulls cutting edges; carbide tooling recommended. Sanding: Sands satisfactorily.
Nailing: Good holding ability.
Finishing: Wood stains black in contact with ferrous metals or moisture.
USES
Merbau wood is mainly used for flooring, furniture, paneling, fine joinery, decorative turnery, cabinetmaking, musical instruments, and specialty items. The wood is also a dye source.
Data are from Indonesia Wood Atlas Volume II, 1989; Department of Foresty Agency for Forestry Research and Development Forest Product Research and Development Centre Bogor-Indonesia.